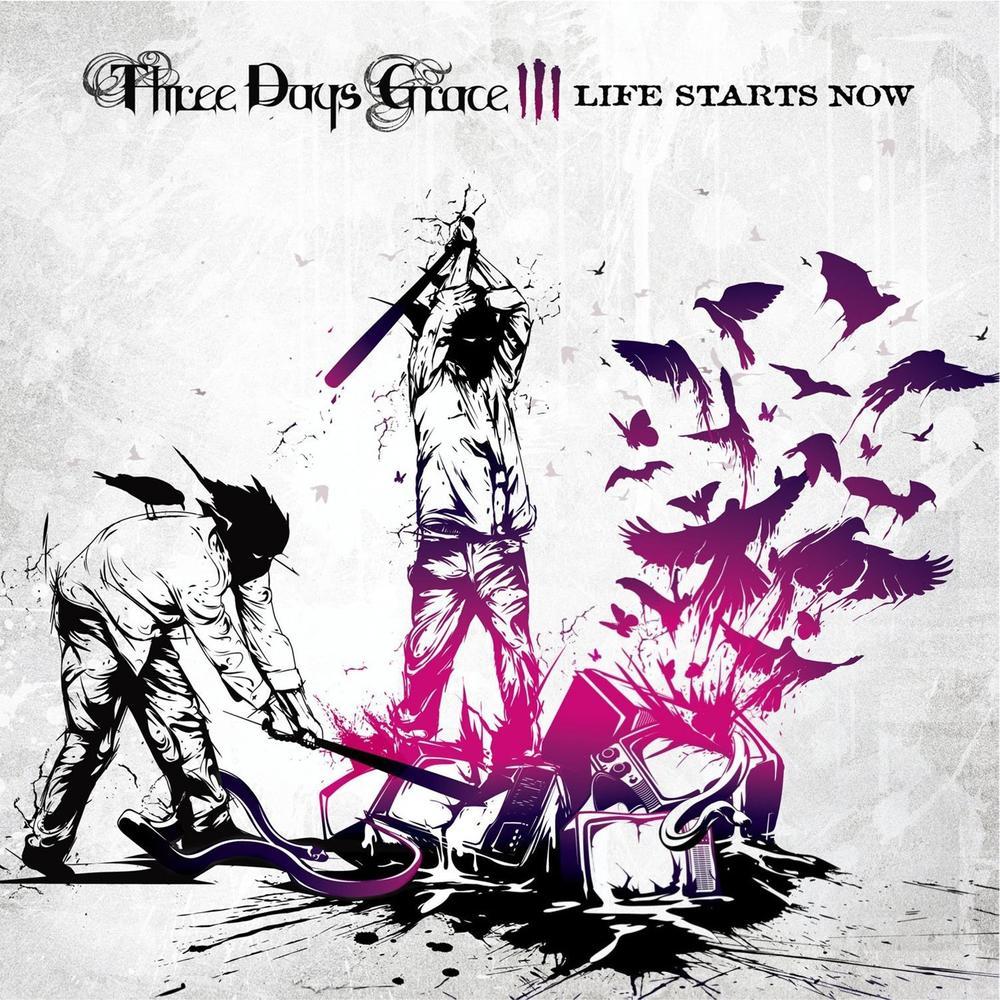 Life Starts Now (2009)
Released by: Jive
STREAM ON SPOTIFY
Track Listing
1. Bitter Taste
2. Break Lyrics
3. World So Cold
4. Lost In You
5. The Good Life
6. No More
7. Last to Know
8. Someone Who Cares
9. Bully
10. Without You
11. Goin' Down
12. Life Starts Now
Produced by: Howard Benson
Recorded by: Mike Plotnikoff
Digital Editing: Paul Decarli
Additional Engineering: Hatsukazu Inagaki
Guitar Tech: Marc Vangool
Drum tech: Jon Nicholson @ Drum Fetish
Keyboards and Programming: Howard Benson
Recorded at the Warehouse Studios, Vancouver, B.C.
Assistant Engineer: Mike Cashin
Technical Assistance: Chris Concepcion
Mixed by: Chris Lord-Alge at Mix LA
Assistant Engineers: Keith Armstrong, Nik Karpen
Additional Engineering: Brand Townsend, Andrew Schubert
Mastered by: Ted Jensen at Sterling Sound, NYC
All Songs Written by: Three Days Grace, B. Stock. EMI Blackwood Music (Canada) LTD./ Blast The Scene Publishing (SOCAN) / Mean Music Publishing (SOCAN) .
All rights for EMI Blackwood Music (Canada) And Blast The Scene Publishing Controlled And administered by EMI Blackwood Music Inc. (BMI)
All lyrics reprinted with permission.
Three Days Grace is:
Adam Gontier – lead vocals, guitar
Neil Sanderson – drums, piano, vocals
Brad Walst – bass
Barry Stock – guitar
Neil uses: Yamaha drums, keyboards/Vic Firth sticks/Evans drumheads/Sabian cymbals/Mountain Rhythm Percussion
Barry uses: Ibanez guitars
Brad uses: Ernie Ball Musicman basses/AMPEG amps
Adam uses: Gipson guitars, MES/Boogie amps
Adam, Barry and Brad use Ernie Ball strings, D'Addario strings, Jim Dunlop picks, and Levy's straps
Three Days Grace Would Like to Thank:
Cliff, Peter, Gayle and everyone at Q Prime, Grant Verney, Nicki Loranger, Chris Taylor, Michael McCartney….. and all the bands, artists and crew we've shared the stage with and everyone responsible for making our live show possible. Barry Weiss, Tom Carrabba and everyone at Jive Records and Sony Music, Shane Carter, Stephanie Robertson and everyone at Sony Music Canada. Last but not least, our fans.
Special Thanks to our late friend and manager, Stuart Sobol
Adam: I want to thank Naomi for being an inspiration and one of the strongest people I've ever known. My Mom and Dad, Grandma Duffy, Katelyn, Christian, Cale, Josh, Nate, my first born Mabel, Mr. Miyagi, and Simba. Thanks to the Gontier family and the Duffy family for all of your love and support. Tina Simpkin from Gibson Guitars. Wayne O'Connor at "From Hank To Hendrix" in Peterborough, Ontario, Thank you Maryann, for your love, support, wisdom, generosity, kindness, and, of course, your stories! This one's for "Sister Mary Flan's Traveling Medicine Show".
Neil: Extra huge thanks to Janin and Violet. The Sanderson, Latham, Johnstone, and Yeatman families, and all of my extended family and friends, and thanks again to everyone I've thanked before. Lastly, thanks to Adam, Brad, and Barry.
Brad: Special thanks to Rhonda, James and Graydon for keeping me grounded and always making me smile…. Love you guys! Mom, Dad, Matt, Bob, Susan and all of my extended family. Thanks to everyone elsewho has made this CD possible….cheers!
Barry: Thanks, my wife and best friend Heather. Neil, Brad, Adam and their families. The Stock, Shebib, Groat, Henderson, Laviola, Sanderson and Steves families, Mike Taft at Ibanez guitars, Smoken Joe and friends, Rodney Goddard (Jr. & Sr.), Dennis, Will, Tim, Chris and Joel…. Sick! Mark Seinen and crew, all my friends and all the people we have had a chance to work with along the way.
Management: Q Prime Inc.
Legal: William Berrol
The Agency Group: Ralph James, Steve Kaul, Lorraine Webb, Megan Kesler
Yaletown Financial Management: Janice Staub, Ron Page
A&R: Michael Tedesco
Art Direction: Three Days Grace/Chris Feldmann, Jackie Murray
Design: Chris Feldmann
Illustration: Adrian Knopik FuseCollective
Photography: Danny Clinch