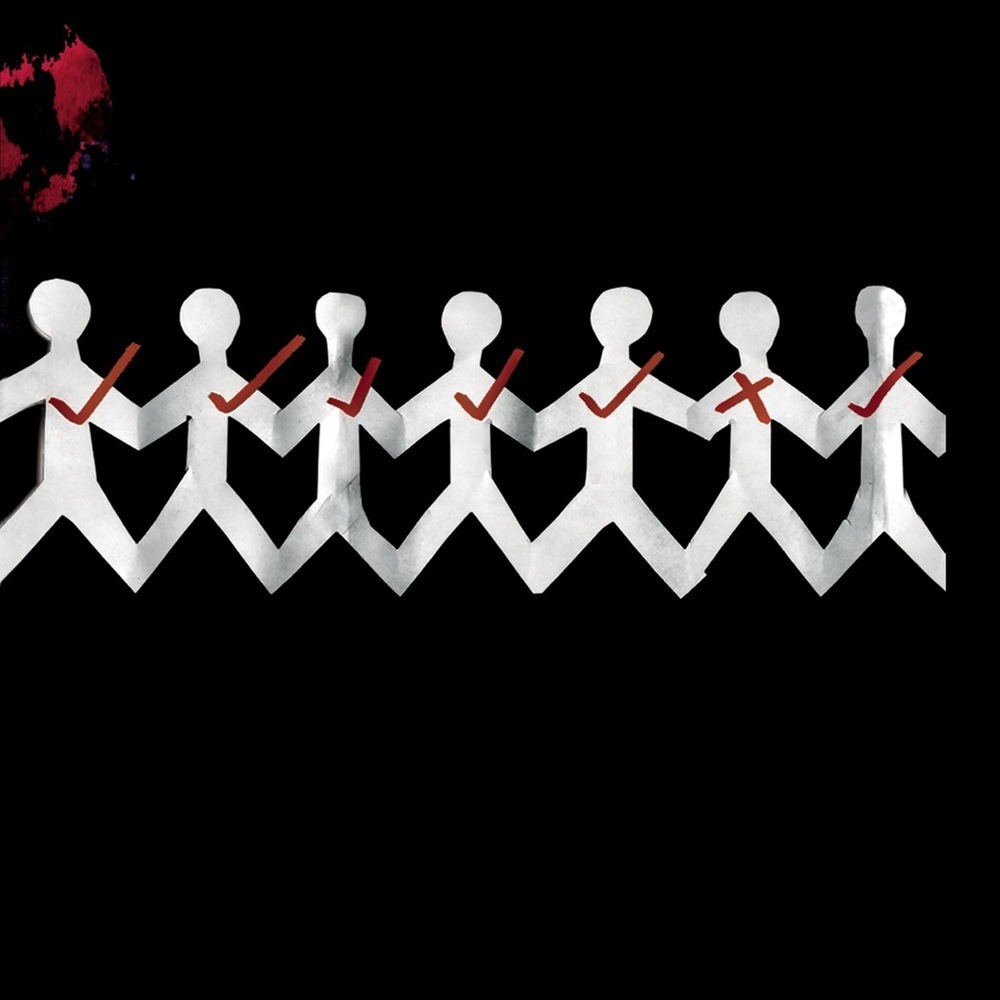 One-X (2006)
Released by: Zomba
STREAM ON SPOTIFY
Track Listing
1. It's All Over
2. Pain
3. Animal I Have Become
4. Never Too Late
5. On My Own
6. Riot
7. Get Out Alive
8. Let It Die
9. Over and Over
10. Time of Dying
11. Gone Forever
12. One-X
Produced by: Howard Benson
Recorded by: Mike Plotnikoff at Bay 7 Studios, Valley Village and Sparky Dark Studio, Calabasas, CA
Assistant Engineer: Hatsukazu Inagaki
Pro Tools Editing and Additional Programming: Paul DeCarli
Mixed by: Chris Lord-Alge at Resonate Music, Burbank, CA
Drum Tech: Gersh @ Drum Fetish
Guitar Tech: Marc Vangool
Keyboards and Programming: Howard Benson
Background Vocals on "Animal I Have Become": Ned Brower
Background Vocals on "One-X": New Brower and Taylor Locke
Programming on "Time Of Dying": Paul DeCarli
String Arranger on "Over And Over": Debbie Lurie
Strings Recorded at Fire House Studios
Engineered by Casey Stone
Mastered by: Ted Jensen at Sterling Sound, NYC
Three Days Grace is:
Adam Gontier – Lead Vocals, Guitar
Neil Sanderson – Drums, Vocals
Brad Walst – Bass
Barry Stock – Guitar
Neil uses: Yamaha Drums/Vic Firth drumsticks/Evans drumheads/Zildjian Cymbals
Barry uses: Ibanez guitars/Diezel Amps
Brad uses: Lakeland Basses/Peavey amps
Adam uses: Schecter Guitars/Diezel amps
Adam, Brad and Barry use: SIT Strings and Jim Dunlop picks
Thank You:
ADAM: Naomi – you are my girl, my inspiration and the one who keeps me grounded. Mom, Dad, MaryAnn, Pablo, Katelyn, Christian, Nathan, Cale, Josh and all the "cousins," Abby P and Roo G, Art Gordon, Kevin Brown, Kim Broand, Adam and everyone at the Labyrinth Lounge, Bimba and Nugget and Winnie, Brad, Neil and Barry – thank you… you are the one's who make all of this possible. Like I said the last time I had to do this, there's way too man people who have been there to support me, and there are too many people who have made an impact on my life to mention. You know who you are, so thank you. I'd like to dedicate this record to my grandmother, Margaret Gontier-Bond and to my friend, Matthew Ryan William Street…Your spirits live on forever. We will always love and miss you…
NEIL: Janin – Thank you for helping me chase my dream, as you chase yours, the Yeatman and Florence families, the Latham and Johnstone families, Shelly Sanderson, the Creally family, Jen & Andy Copson, the Bowden's, Dave M. and Sara R., Ginger & Comet, Evoke, thanks to my 3 partners in crime, and all of my extended family and friends.
BRAD: Rhonda – my most favorite person in the world, Mom and Dad Walst, Matt, The Steenburgh Family, Poop & Pee, the boyz in My Darkest Days, J. Young and everyone else who has supported me along the way…cheers!
BARRY: To my best friend and wife Heather Stock, Stock Family, Shebib Family, Steve Henderson, Steve Lake, Tony Laviola, Derek Sharp, Sass Jordan, Armando Amaliello, Keith Kaplan, Moonshin Tattoo and Clint Eastwood.
BAND: Joe Grant, Kara Krome, Aleata, Lisa, Brad and Cara Lukowich, Casey Marshall, the Superfans, Iggstock, Grainne and Cory, Kim, Brenda, the Boy, Travis B., Holmes, Tim Seaton, Bryce M., Art G., Trevor McNevan, The Milroy's, The Partingtons, Mike Filsinger, Ken Schultz, Geoff Kent, Shane Strugnell, Cale Gontier, Chris Aman, James Dean, Jay Sakowski, Mike Sneyd, Grant Varney, Al Black, Curtis Clyde, Nate Brewer, Howard Benson, Mike Polotnikoff & everyone at Bay 7 Studios, Chris Lord-Alge, Deborah Lurie, Warless Rabbit, Dean Karr, Superstar Media, Roland Wilhelm, Rikki Smeltzer, Ron & Tony from Lords, Eric Ratz, Kenny Luong, Pete Plesnik, Harry Hess, Palmer Audio, BCB, Sean Browne, Marco Soccoli, Mike Taft & Everyone at Hoshino, Uwe Salwender, Dave Elleefson, Dan from Lakland, Mark from Schector, Tim from SIT Strongs. Special thanks to Ashley Owens, Shalini Trehan, Mark Adelman, Dave Darus, Mike McCarty and Gavin Brown. Nickelback, Staind, Evanescence, Hoobastank, Velvet Revolver, Seether, breaking Benjamin, Finger Eleven, 3 Doors Down, Papa Roach, Tool, Thornley, Theory of a Deadman, Billy Talent, Trapt, Smile Empty Soul, Rooney, Thousand Foot Krutch, Grady, My Darkest Days, Electrashine, Willis, The Dqights, Slow Nerve Actionand every other band we have crossed paths with in the last 3 years. Thank you to all of our family at Jive and Sony BMG. Last but not least…thank you fans!!!
Management: Stu Sobol and Nicki Loranger of The Firm
Legal: Chris Taylor, Stacy Mitsopulos and Lynn Burshtein
EMI: Mike McCarty, Barb Sedun, Tanya Coghlan, Mike Fox and Neil Lasher
The Agency Group: Ralph James, Steve Kaul, Steve Herman and Lorraine Webb
Yaletown FM: Janice Staub
A&R: Michael Tedesco
Enhanced Portion:
Editor: Brian Kushner
Facility: Purple Can Post