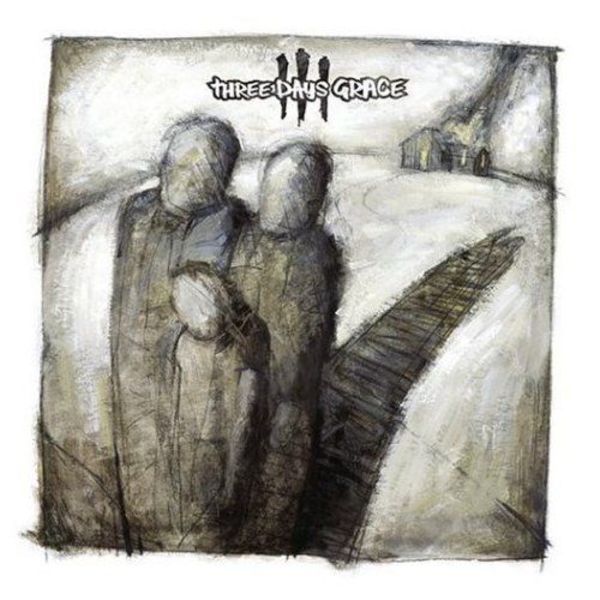 Three Days Grace (2003)
Released by: Jive
STREAM ON SPOTIFY
Track Listing
1. Burn
2. Just Like You
3. I Hate Everything About You
4. Home
5. Scared
6. Let You Down
7. Now or Never
8. Born Like This
9. Drown
10. Wake Up
11. Take Me Under
12. Overrated
Produced by: Gavin "Golden" Brown
Engineered by: Michael "Elvis" Baskette
Additional Engineering by: Krisjan Leslie
Recorded at: Long View Farms Studios, North Brookfield, MA;
Bearsville Studios, Woodstock, Y;
Vespa Studios, Toronto, Ontatio;
A Room Full Of Stuff Studios, Toronto, Ontario
Mixed by: Jay Baumgardner at NRG Recording Studios, N. Hollywood, CA
Except "Just Like You" & "I Hate Everything About You" Mixed by: Rich Costey at Cello Studios, Hollywood, CA And "Burn," "Home" & "Let You Down" Mixed by: Randy Staub at Henson Recording Studios, Hollywood, CA
Editing by: Dave Holdredge
Assistant Engineers: Mike Lapierre, Ally Trela, Damien Shannon, Mark Kiczula, Darren Mora and German Villacorta
Mastered by: George Marino at Sterling Sound, NYC except "I Hate Everything About You" & "Just Like You"
Mastered by Ted Jensen at Sterling Sound, NYC.
THANK YOU!
Adam would like to dedicate this record to the loving memory of Joshua Dufrane. We miss you. Thank you Naomi for everything you have done for me and all your support. Thanks to the two biggest inspirations and supporters I could ever ask for, mom & dad, without you I could never have come this far, my sister Katelyn and my brother Christian, I love you both. Josh, for teaching me how to play an axe, Cale for teaching me how to play a left-handed axe, Nathan and Maryann A.K.A. Sister Mary Flan and, for all you've put up with and all you've done for me. From Norwood to Peterborough, to Stouffville to Markham to Toronto, there are so many friends of mine who have helped me get to where I am. Unfortunately, there is not enough room on this sleeve to name everyone, but you know who you are. Thank you so much. And to you, the one who bought this record and have bothered to read this far. Thanks.
Neil
Thanks to my mother, Carole, there's no way I could've done it without you…I miss you. Thank you Janin, I owe everything to you. To my family, for keeping me sane in crazy times – Shawn, Cheryl, Tyler, Chantal, Alyssa, Darren, Doug, Janet, Rob, Richie, Joan, Gerry, Jason, Justin, thank you all! To Adam and Brad, my extended family. To my music teacher, Murray Carr for showing me where my passion lies. Mark Fletcher, you were a "big brother" to me. Thanks to Dallas Lehigh and his family, for putting up with hours of bad after-school jams, Trevor McNevan, for your encouragement, Dan B., Jason H., Don B., Jake M., Copsy, Toad and Corey, Jeff I. and anyone else I forgot (I'm pretty forgetful) …thank you! I've dedicated this to the memory of my parents and my brother, Darryl.
Brad Thanx:
Rhonda for always being there for me. My parents: Lou & Karol who have believed in me 100% from day one. My brother Matt ('the man with the riffs') for always finding a way to make me laugh. Bob, Sue, Angela and Ashley for your support. Adz and Neil for bringing me into this crazy world of Rock 'n' Roll. K.J., Boone, Juice, Shona, Al and Paula for being my family next door. Jeremy Young and the G-Brown Boyz. All my Norwood Crew and Iggstockers for always supporting the cause…G-swell 4EVR. And thanks to Mo and The Cottage Life/Explore crew for their encouragement and wild parties.
I dedicate this album to my late Grandma Allan.
THREE DAYS GRACE THANKS:
Gavin Brown, Mike McCarty, Barb Sedum, Tanya and Scott and everyone at EMI Publishing, Ralph James, Paul and everyone at The Agency Group, Chris Taylor and everyone at Sanderson Taylor; Arthur, Stu, Mark, Gary, Jed, Josh, Trish and everyone at Spivak/Sobol Entertainment; Bon Anderson, Laura Bartlett, Michelle Borek, Cara Bridgins, Tom Carrabba, Lorraine Caruse, Jayne Cohen, Jeff Dodes, Michael Galbe, Nick Gamme, JoAnn Kaeding, Kim Kaiman, Janet Kleinbaum, Gerry Kuster, Amanda Levine, Julia Lipari, Jon McHugh, Randy Miller, Sonia Muckle, Jackie Murphy, Max Nichols, Tracy Perez, Joe Riccitelli, Nancy Roof, Jennifer Sabba, Steven Savoca, Benny Taratini, Michael Tedesco, Peter Thea, Barry Weiss and everyone at Jive Records, Stephanie Robertson, Dan Buckman, Orly Bohbog, Maria Gagliese, Jane Tattersall and everyone at Zomba Canada, everyone at BMG Records, Bonnie Fedreau, Nikko Quintal, Elvis, Dave H., Krisjan L., Longview Farms Studios, Bearsville Studios, Jay Baumgardner, Rich Costey, Randy Staub, Ted Jensen, George Marino, Harry Hess, Corey Shields, Grant Varney, Gord Adams, Jeff Holdip, Ferg, Snead, Barry Stock, Iggstock, Phil C., Joe G., Cale, Milly, Dave M., Boone, Juice, Nate, KJ, Tommy, Travis B., Holmes, Trevor, Matt Walst, Becca, Abby, Scot, Kev, Dwight, Steve C., Chris W., Grainne, Kim, Andrea, Aleata, Leslie, Kara, Heather, Sara R., Lisa, Casey, Sue, Art, Doyle, Ian B., Paul M, Matt W., Frank Garden, Frank Girard, Spoonman, Chris S., Mike H., Simon W., Bryce M., Keith Porteous, Lisa Zbitnew, Alan Reid, Dave Porter, Jamie Greenspan, Mike Roth, Fritz and Click, Jennifer Hirst, Jody Mitchell, Tom Sarig, Rick Goetz, Josh Deutsch, Leigh Lust, Geoff Weiss, Ron Burman, Dave Bendeth, Bob Jameson, Jeff Fenster, Ari Martin, Warren Entner, Brian Coleman, Gloria Butler, Eric, Rob, and Julian at Coalition, Chuck Lavallee, Ted Gardner, Ray Daniels, Scott Winig and the video crew, Default, Theory of a Dead Man, IME, Flip Nixon, Guilt Trip, Electrashine, Thousand Foot Krutch, The Headstones, The Watchmen, Finger Eleven, Nickelback, Transient Noise, Cleavage, Slow Nerve Action, Tanglefood, Billy Talent, The Dwights, Willis, Edwin & the Pressure, Headstrong, Shocure, Mudvayne, Wide Mouth Mason, Groundswell, Auto Detailers, Sound on Sound, Wayne's Music, Bud Monahan's HOG, Kim Monrow, Pete and Nardboy at WXTM, Tommy Mattern at KPNT, Mike Kaplan at KRBZ, Murray, Vince and Matt at 89X, Tommy Wide, The Edge 102.1, The Wolf 101.5, Sin City, The Rivoli, The Harris Institute, Jeff Zurba and everyone at Steve's Music, MTS, Cottage Life magazine, East Side's, Rob Mizzella at GMS Drums, Long and McQuade and everyone that we forgot, thanks.
Management: Mark Adelman/Stu Sobol for Spivak Sobol Entertainment
Photography: Chapman Baehler
Art Direction/Design: Nick Gamma
Illustration: Jeff Faerber
Stylist: Mandi Line
Groomer: Diane Schmidtke